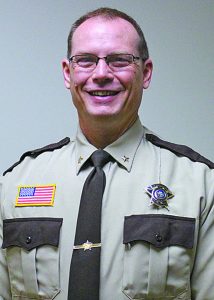 Information updated February 2020
Sheriff Scott Rehmann of Winsted is the 26th sheriff of McLeod County.
As the sheriff, he is the chief law enforcement officer of McLeod County and is responsible for both common and statutory law to keep and preserve the peace of the county. In addition, the sheriff is an officer of the McLeod County District Court and has charge and custody of the county jail.
McLeod County employs 25 full-time and 10 part-time deputies, who patrol an area of  503 square miles.
The county is comprised of 14 townships and nine cities, with a total population of 36,651. The county seat is Glencoe.
Major highways that run through the county include US Highway 212, and State Highways 7, 15, and 22.
Communications Division
The McLeod County Sheriff's Communications Division acts as the public safety answering point, more commonly known to the public as the 911 emergency system answering point, for six municipalities in McLeod County.
The sheriff provides the public safety radio network for Glencoe, Brownton, Lester Prairie, Silver Lake, Stewart, and Winsted police departments, as well as fire departments and ambulances in the county.