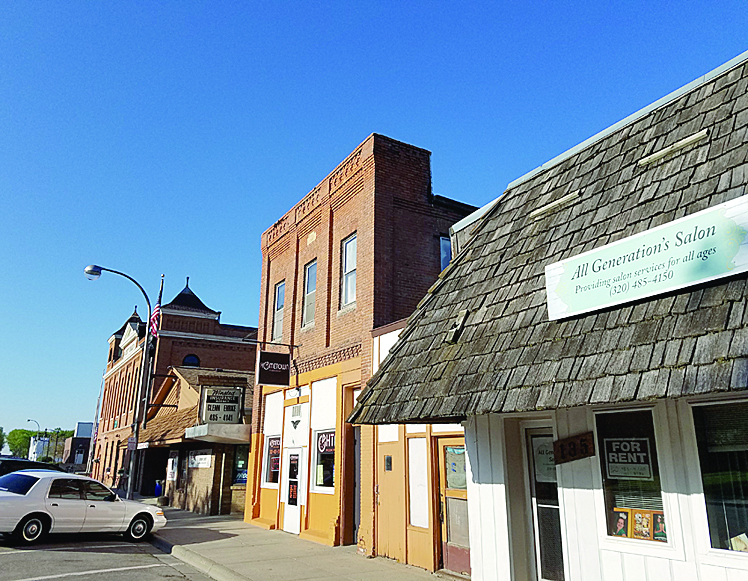 Information updated February 2020
Shopping is simple in Winsted. There are no traffic jams or long lines to deal with, and local business owners aim to provide high-quality products and services at fair prices.
Retailers are promoted by the Winsted Area Chamber of Commerce through a variety of initiatives, including Winsted Bucks, which can be used like cash at local businesses. Purchasing Winsted Bucks for employees, friends, and family members is a way to keep spending within the community. To order, email info@winstedchamber.com.
Groceries and gifts
Need ingredients for that new recipe? Glenn's SuperValu (located at 491 Main Ave. W.) is a full-service grocery store with a wide selection of fresh produce, meats, dairy, frozen goods, and more. The store even offers complimentary bagging and carry-out to customers' vehicles.
Dollar General is located on 6th Street (McLeod County Road 1). The small-box retailer offers supplies for beauty, pets, baby, cleaning, food, and more.
Keaveny Drug, located in downtown Winsted, is a full-service pharmacy that carries Hallmark cards, scented candles, and other gift lines, as well as a wide range of healthcare products.
Crazi on the Lake, located at the historic city hall building downtown, is another fun place to visit. Customers can enjoy coffee, smoothies, lunches, desserts, and more.
Professional services
Full-service banking, real estate services, financial management, insurance and investment services, and legal advice are all available in Winsted. There are also beauty salons, health care services, and dentist offices nearby.
Joyful Vibes, which offers massage therapy, essential oils, wellness classes, and more is located at 109 2nd St. S. Suite #2, and is owned by Tara Vetsch.
Twisted Piston Apparel, located at 115 1st St. N., is your source for custom screen printing, embroidery, and heat transfers. No costly art setup or digitizing charges. Custom design clothing has been their specialty and passion for more than 20 years and all of their work is done in the USA.
For professional portraits, make an appointment at Laxen Photography in Winsted.
For insurance services, contact Knights of Columbus Insurance and speak to one of their agents.
New to Winsted this year, Peak Nutrition provides health and nutrition products and services for the well-being of the Winsted community.
Geeks in Pink – Cellular Consultants, are located at 161 Main Ave West. "Minnesota's coolest cellular Geeks are here to help you get the best value from your wireless service and the most from your smartphone."
Maynards Tackle, located at 205 6th St. N, serves the needs of sportsmen who love ice fishing and freshwater fishing with a wide variety of hand-crafted fishing jigs, including custom fishing tackle of your own design.
For printing and signs, stop at Greater Minnesota Sign & Graphics (part of Herald Journal), located at 120 6th St. N.
For gun repair, hunting/fishing licenses, and hunting supplies, try Habisch Outdoors along McLeod County Road 1.
All-inclusive vehicle care is also available in Winsted, such as auto body, repair and parts, custom vehicle and conversions, and gas and fuel.
Tasty treats
Pizza, ice cream, coffee, chicken . . . if you're in the mood to eat out, try one of Winsted's appetizing dining establishments.
With easy access from McLeod County Road 1, Casey's General Store, which offers pizza, subs, donuts, and more, is located at 240 6th St. N. Subway and Hussong's Liquor (both located at 132 6th St. N) are also popular establishments in Winsted. Downtown Winsted, homestyle meals are available at V's Grill and The Pantry. Hometown Pizza Shop is located downtown at  145 1st St. N.
Carlson's Orchard, Bakery and Restaurant (a few miles west of Winsted on Montgomery Avenue) is open August through November for lunch, apples, baked goods, homemade soups, and jams. On Third Street South, The Blue Note Restaurant and the Blue Note Bar and Ballroom offer dining, catering, on- and off-sale liquor, and a banquet facility. Other entertainment-focused restaurant options include Keg's Bar and The Corner Bar (both on First Street North) with live bands, karaoke, and special events throughout the year.
Top technology
High-speed internet services and cable TV are available through local telephone company TDS Telecom or Mediacom Cable. TDS Telecom added fiber optic lines in Winsted in 2015, increasing internet speeds. Residents with local 485 telephone numbers can also choose to take advantage of Hutchinson Telephone Company's DSL access and internet access packages.
For website design and online marketing, Greater Minnesota Digital Services (part of Herald Journal) is a local one-stop-shop. For details, visit greatermndigital.com or call 320-485-2535.
Rooted in agriculture
For agricultural services such as crop fertilizer, herbicides, custom crop spraying, bulk fuel delivery, and tire sales and service, stop at the Winsted Farmers Co-op Creamery on McLeod County Road 1, just south of town. The co-op also offers 24-hour gas pumps.
The Herald Journal newspaper publishes a Farm Horizons guidebook six times per year, available at www.herald-journal.com/farmhorizons.