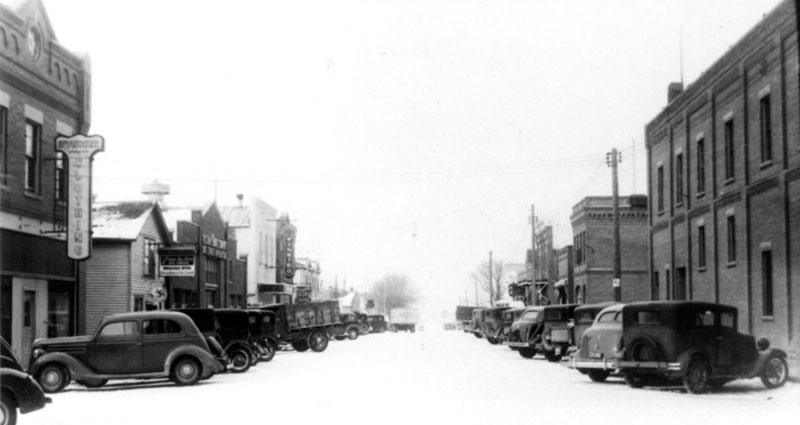 It was over 125 years ago, on August 27, 1887, that the Village of Winsted was incorporated, but its history began long before that.
From the beginning, it was the determination of men and women who wanted to build a better future for themselves and their families, who headed out west to make a living and set new traditions.
Men like James Baird, a trader, trapper, hunter, and scout, had been in the area known as the Big Woods as early as 1846. It was Baird who led Eli Lewis further west to explore the 24,000,000 acres of land opened for settlement in 1853 in southern and western Minnesota by a treaty with the Sioux Indians.
The Village of Winsted was founded July 30, 1857, when Eli Lewis purchased the land north of Main Avenue from Baptiste Campbell, a half-Sioux Indian, and named the town after his hometown of Winsted, Connecticut.
Eli, with his brother, Isaac, platted the town and proceeded to build it. Using what resources he had, Eli bought and dried ginseng, the sale of which, along with the sale of ashes, was the only cash income the settlers had in those early days. He built a soap and potash factory, where he manufactured potash made from ashes of the timber that had to be burned in the clearing of the land.
By the early 1900s, Winsted had a public school, several churches, waterworks installed for fire protection, the first electric lights, first telephone line, and a new city hall.
Businesses established by the 1900s were the Winsted Milling Co., Winsted Roller Mills, and Millerbernd Store, which sold general merchandise.
Along with the successes, there were some major setbacks including a fire that burned a whole block of Winsted's downtown in 1886, from where the historic city hall is located, south to the Corner Bar.
Realizing the need for fire protection, in the following years, the city built its fire department, adding a chemical cart, hose, ladder cart, ropes and buckets. But it wasn't until the arrival of a chain driven, Oshkosh fire truck in 1927, that weekly volunteer firefighter training started.
The Electric Shortline Railroad attracted new industry to Winsted with its arrival in 1915, including the construction of a new Gopher State Canning Factory, Pure Milk Produce, and the Winsted Farmers Elevator.
Other businesses soon followed. Winsted Telephone Company was formed in 1917; Quast Transfer was hauling livestock and groceries by horse and wagon; Millerbernd opened a shop in Winsted to repair farm machinery and automobiles; Kubasch Excavating started with one truck used to haul milk for Pure Milk Produce, the Sterner family opened a store selling and installing heating and creamery equipment; and so many more businesses too numerous to mention.
By the end of 1959, St. Mary's Home and Hospital was built and, in 1962, the city became the owners of the Winsted Municipal Airport which was the first municipal airport in McLeod County.
In recent years, Winsted has seen new industries fill its industrial park, and several established businesses expand. The city has built a new city hall, added new home developments, and has a health care campus offering state-of-the-art services.
The 1950 census report showed the population of Winsted had reached 941. By the year 2000, Winsted's population had grown to 2,096.
While celebrating Winsted's progress over the last 125 years, its citizens should not be forgotten. It's what Winsted is all about – dedicated, energetic people with vision, who know how to make things happen.
Many residents have lived in Winsted their entire lives. Others have moved to Winsted because, like the early settlers, they have seen the opportunity to build a better way of life for themselves and their families.
Winsted Minnesota 125th History Book
This compilation of the history of Winsted, Minnesota, is dedicated to everyone who has made our town what it is today – the settlers and early residents, those who invested and built the community over the years, as well as those who call Winsted home today.
www.winstedmnhistorybook.com