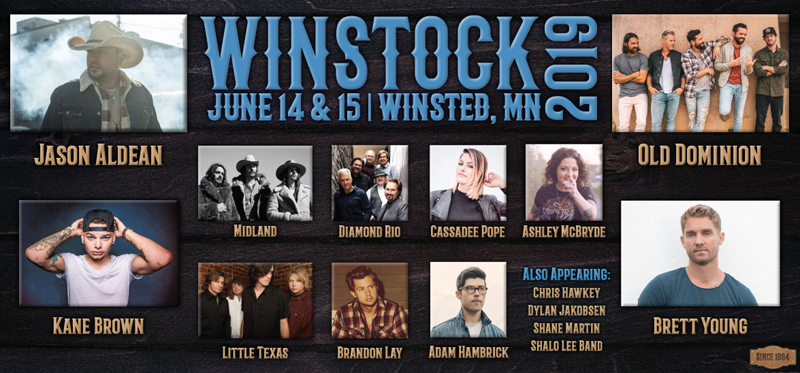 By Jess Vealetzek
Twenty-five years ago Tom Ollig and Dick Langenfeld had a bold idea for a brand new fundraising opportunity for Holy Trinity School. At the time, nobody knew exactly what the future would hold, but the idea became a reality, Winstock Country Music Festival was born, and in 2019 it is still a testament to the fact that when people get together and work towards a shared goal just about anything is possible.
Even though the beginning years may have been rocky, the festival has grown to be an enormous success, not only for the local school but for the City of Winsted. One thing the committee has continued to do throughout the years is bring a mix of classic country artists along with current hit artists and some of country's hottest up-and-coming performers to the festival. This can be seen every year throughout the festival's history by looking at the unique lineup offered each year. As you can guess, 2019 will be no different.
Jason Aldean, who performed at Winstock in 2011, will be returning to the main stage to close out Friday night. Old Dominion, newcomers to our small town, will be headlining Saturday night and will have the opportunity to show what they're all about. They may be new to the Winstock stage but are definitely not new to the country music scene.
Winstock Country Music Festival will be held Friday and Saturday, June 14 & 15, 2019, in Winsted.
Joining Jason Aldean and Old Dominion will be Kane Brown, Brett Young, Midland, Diamond Rio, Cassadee Pope, Ashley McBryde, Little Texas, Brandon Lay, Adam Hambrick, Chris Hawkey, Dylan Jakobsen, Shane Martin, and the Shalo Lee Band.
In 2018, Winstock goers were introduced to a new name for what had been coined the Emerging Artist Stage over the years. The name of Winstock's second stage has been changed to the West Stage and is more expansive to allow more than just newcomers to take the stage. This year West Stage performers are Shane Martin, Adam Hambrick, Brandon Lay, and classic country group Little Texas.
Tickets and more information
VIP tickets for 2019 sold out in 2018. Reserved seating ($195) and general admission ($125) through the early bird deadline of March 15, 2019 a,re available at winstockfestival.com/tickets or by calling 320-485-4287. Camping passes ($125) and extra vehicle passes ($25) are also available. Tickets can be purchased at the lowest price before the early bird deadline, which is March 15, 2019.
Something for everyone
Whether you're attending the festival for the great 'fair food', the mix of classic and new country music, or to share the weekend with friends or family, Winstock offers something that is sure to please all.
Camping over the weekend offers a completely different experience than staying in the concert bowl the entire time. Although only primitive camping sites are offered, campers have become extremely creative and customize their sites to be exactly what they need for a weekend of fun. A walk through the campgrounds at during the day or night is sure to entertain with the campsite decorations, bonfires, and meeting other concert-goers that are always friendly and welcoming.
When it comes to the food, there is a variety of options to choose from. Whether you have a sweet tooth or prefer down-home comfort food, you'll find the best options at the festival. From mini chocolate chip cookies to turkey croissants and gyros, there is something for every craving.
While you're at the concert, don't forget to check out the unique vendor booths to find the perfect souvenir to bring back with you. Some of the items you'll find are apparel & accessories, cowboy hats & boots, paintings, purses, artist merchandise, and much more!
Winstock 25th anniversary souvenir book
There will be 25th anniversary souvenir books available for purchase by online and there will also be a small number of limited edition books available at the festival on June 14 & 15, 2019. The book is a compilation of some of the most memorable moments that have taken place over the past from 1994-2017. Go to WinstockFestival.com for more information.
For additional announcements, Rumble on the Road nights, promotions, and everything Winstock, go to WinstockFestival.com, sign up for Winstock email news, follow the festival on Twitter @WinstockMN, like Winstock on Facebook, and follow Winstock on Instagram and Snapchat.