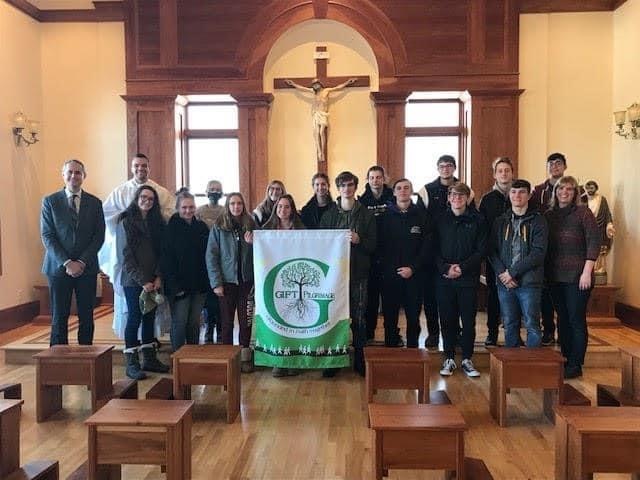 Information updated February 2021
Holy Trinity School is a PreK to 12th-grade school in Winsted, MN, with a proud tradition dating back to 1883. We offer an authentically Catholic education, which seeks to fully prepare students for their God-given vocation in life, and, ultimately, to prepare them for their eternal vocation of union with God and His family in heaven. Therefore, we educate the whole person and seek to attain true academic excellence. We also provide robust opportunities for students to grow in virtue, to participate in athletics and the fine arts, and to become strong and confident leaders who find their fulfillment in serving others.
The first question many people may ask when considering Holy Trinity School is: "Can I afford it?" Others assume, "I bet I cannot afford it." Or "I know I won't be able to afford it."
We never want to let finances get in the way of any student receiving the best education around. We offer need-based financial aid. What does that mean? In short, it means that families are paying what they can afford.
What is the process for receiving financial aid? After applying to Holy Trinity School, the parent fills out a financial aid application through a third party company called TADS. This information from TADS comes to the school, and the school's financial aid committee reviews the application and provides a financial aid award letter to the applicant.
At times, the amount awarded does not work for the family, but through continued conversation and explanation of a family's need, the committee and the family can come to a solution that works for both parties. Holy Trinity expects families receiving financial aid to be making a financial sacrifice to send their children to Holy Trinity; however, we expect it to be a doable sacrifice.
So, can you afford Holy Trinity School? For the vast majority, the answer is a resounding "Yes!"
What is most important to Holy Trinity School? The most important thing for us as a school is to provide and promote an authentic Catholic environment and culture. Our Catholic Faith is the first and most essential reality of who we are. It defines and inspires all that we do.
Do you accept non-Catholics? Yes, of course. All are welcome to Holy Trinity School. As long as a family is supportive of the mission of the school, we welcome students of all or no faith tradition. We still expect all students to be with us as we study and pray. We have daily Catholic religion classes, daily prayers and a weekly Mass. We also offer all students a weekly opportunity to go to Confession on campus.
Our goal is to teach the Catholic Faith in an authentic way that invites students to more fully devote themselves and respond in love to the Catholic Faith, to God, and to their neighbor. This can only be done by a staff that is in love with Our Lord and living out in their daily life the life of faith. Each person on staff seeks to be ever more fully an authentic witness to the Gospel—there is nothing more important than this daily, personal witness of living the Faith in the true education of the whole person.
What is the next most important thing for Holy Trinity School?
Once we have the most important element fully in place and informing all we do, then we can fully and truly educate young people. We form and lead young people to learn how to learn, to think for themselves, and to effectively communicate, especially in a public setting. We seek to inspire in our students a sense of wonder and a love for all that is beautiful, good, and true.
How does Holy Trinity inspire wonder in students, make them confident leaders, and teach them how to think for themselves? We emphasize teaching methods that have stood the test of time. We are in the process of rediscovering some of the many treasures of the Catholic Tradition, especially the best of her educational traditions. We are rediscovering some of the elements that historically made Holy Trinity great in decades past. What is that? It is a more traditional, classical educational approach.
What is a classical approach? One way to express this approach is in the Trivium, the three classical stages of education. In the grammar stage, students learn and absorb the true, the good, and the beautiful. In the logic stage, students explore why these things are true, good, and beautiful. Finally, in the rhetorical stage, students learn how to persuasively communicate those realities. For many years, Holy Trinity School's yearbook was entitled nothing other than "Trivium."
Holy Trinity is undergoing a rebirth, led by its new pastor, Father Matthew Weiring, and by its new principal, Anthony Biese. This rebirth is not so much a new thing as it is a rediscovery of the many forgotten treasures of Holy Trinity and the classical Catholic educational approach.
In the last generation, many educators around the United States have begun using this classical approach, in both religious and public schools, with astounding results. It is an approach embraced by Catholics, Christians, other faiths and even those with no faith tradition. Dying schools have become thriving in a short time. Students, parents, and teachers alike quickly fall in love with this educational approach—and it gets results. This approach is one of the best ways to foster a full flowering of each person and to bring each student to their full academic and spiritual potential.
In short, Holy Trinity seeks to become the best school in the area. With your support and prayers, we will become just that.