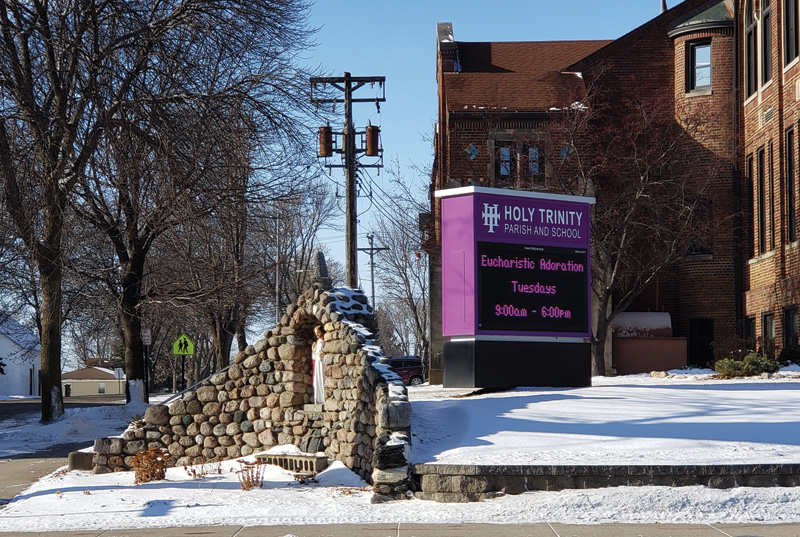 Information updated February 2020
By Holy Trinity Staff
Holy Trinity Catholic School in Winsted, founded in 1883, is one of only a handful of Catholic co-educational schools in Minnesota that serve students pre-kindergarten through 12th grade.
Throughout the school's 137 years of existence, it has provided students with a solid foundation of knowledge and skills that encourage academic excellence. Because of the school's high academic standards and small class sizes, students' ACT scores are substantially higher than the national average, and almost all graduating seniors pursue higher education.
Holy Trinity is a regional Catholic school, with its campus located in the heart of Winsted. The school's strong reputation of academic excellence draws students from more than 19 surrounding communities. The school's mission states, "Holy Trinity School is called by its parish community to educate our children and form them in their Catholic faith that they might be faithful Disciples of Christ."
The elementary and high school buildings are across the street from Holy Trinity Catholic Church. This close proximity fosters a family atmosphere among students, staff, and parish members.
Accreditation – Holy Trinity School is accredited by the Minnesota Non-public School Accrediting Association (MNSAA), affirming the school's academic excellence. Holy Trinity is also a member of the National Federation of Nonpublic School State Accrediting Association.
Academics – Holy Trinity Elementary students experience a challenging and supportive academic environment. High school students are prepared for the next stage in their lives with a challenging core curriculum, daily religion class, and a wide selection of elective courses in the areas of industrial technology, foreign language, art, and science.
The school's grading scale is rigorous, with A = 93-100 percent, B = 86-92 percent, and C = 78-85 percent. The grading scale is designed to ensure students are academically prepared to succeed in any secondary education they choose.
Technology – Technology plays a key role in the work of Holy Trinity's educators. A 1:1 ratio of iPads and Chromebooks for students in grades six through 12, interactive whiteboards, and a computer-to-student ratio of better than 1:2 gives teachers an engaging medium to present curricula to students.
Generous donations have equipped the school with wireless capability and interactive whiteboards for every classroom. Holy Trinity students and teachers embrace the many opportunities to use technology. Parents also enjoy keeping up with grades, assignments, and lunch account balances via the parent portal on the school's website.
Sports/activities – Every student is encouraged to join extracurricular programs, and each student can fully participate in almost any activity they would like – another key advantage of a smaller school.
Holy Trinity is part of a sports cooperative, which offers football, volleyball, soccer, golf, baseball, softball, basketball, cross country, track, gymnastics, wrestling, cheerleading, and trap shooting.
Additionally, the school offers co-curricular activities, such as Sacramental Brothers and Sisters, concert band, jazz band, choir, National Honor Society, student council, youth group, Knowledge Bowl, one-act play, debate club, robotics club, dance team, speech team, and yearbook.
Service – Community service is one of the cornerstones of the school's culture and of its students' educational experience. In order to graduate from Holy Trinity High School, students must complete volunteer hours for the community each quarter.
Seventh- and eighth-graders must complete four hours per year, ninth- and 10th-graders complete two hours per quarter, and 11th- and 12th-graders are required to give four hours of their time per quarter in service to the community. As part of the sacrament of confirmation requirement, 11th-graders must complete an additional 20 hours. In an average school year, more than 1,000 student service hours are given to the community.
The school hosts annual fall and spring service days, when students provide raking, painting, and general cleaning for area residents and community parks. Other examples of service include packaging food for Feed My Starving Children, serving food and collecting items for the McLeod Emergency Food Shelf, volunteering at Sharing & Caring Hands, visiting St. Mary's Care Center, helping to organize city-wide events, going on mission trips, and much more.
Preschool – Holy Trinity School also offers preschool. The preschool program is a wonderful way to introduce pre-kindergartners to school in a safe, Christian-based atmosphere. All children ages 3 to 5 are welcome to attend the Holy Trinity Preschool, which is located in the elementary school building. Classes take place from 8:15 to 11:15 a.m. Monday through Friday. There are two programs to choose from based on the child's age prior to Sept.1.
• Two days per week (Tuesday and Thursday) program for ages 3 to 4 (cost is $95 per month).
• Three days per week (Monday, Wednesday, and Friday) program for ages 4 to 5 (cost is $135 per month).
Affordable – Holy Trinity School is committed to remaining an affordable choice for Catholic education that includes high academic standards, extracurricular activities, and a commitment to serving our community and our world. The true cost of educating each student is substantially higher than the cost of tuition. Holy Trinity School is supported by the parishioners of Holy Trinity Catholic Church; fundraisers such as the Marathon for Nonpublic Education, annual Spring Fling dinner auction, Winstock Country Music Festival; and many personal donations from alumni, friends, and local businesses support low tuition for our families.
Apply – Applications for enrollment will be considered anytime during the year. Application materials can be found on the school's website at www.winstedholytrinity.org.
Scholarships and tuition assistance – A variety of scholarships and tuition assistance opportunities are available for families at Holy Trinity. A commitment will be made to make sure all families can afford this Catholic education.
Consider – Each of us only has one opportunity to educate our children. If you want to explore all of the educational opportunities available in the Winsted area, consider Holy Trinity School for your family.
If you would like to learn more about Holy Trinity School, contact Andrew Meuleners at 320-485-5652, or ameuleners@htwinsted.org; or go to www.winstedholytrinity.org. A school tour and information packet are available upon request.
Give your child an education focused on building knowledge and intelligence, as well as character and faith.